Western Digital Caviar Black 1 TB SATA III 7200 RPM 64 MB Cache Internal Desktop 3.5" Hard Drive (WD1002FAEX )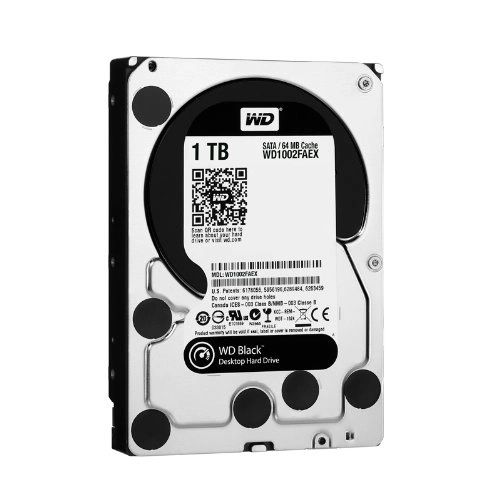 Western Digital Caviar Black 1 TB SATA III 7200 RPM 64 MB Cache Internal Desktop 3.5" Hard Drive (WD1002FAEX )
WD Caviar Black high performance 3.5- Inch SATA hard drive combines 7200 RPM, 64 MB cache, and SATA 6 Gb/s interface for the ultimate in power computing.

High performance electronics architecture features dual processors and bigger, faster caches for maximum read and write speeds.

StableTrac The motor shaft is secured at both ends to reduce system-induced vibration and stabilize platters for accurate tracking, during read and write operations.

5 year limited warranty.




Product Description

WD Caviar Black high performance 3.5-inch SATA hard drives combine 7200 RPM spin speed, 32 MB or 64 MB cache, SATA 3 Gb/s interface, and up to 2 TB capacity with an integrated dual processor for lightning-fast performance in demanding desktop, workstation, and multi-drive systems. Rock solid mechanical architecture and enhanced reliability features help protect the drive and the data stored on it. Backed by a 5-year limited warranty.

From the Manufacturer

WD Caviar Black Hard Drives – Maximum performance for power computing.

WD Caviar Black high performance 3.5-inch SATA hard drives combine 7200 RPM spin speed, an integrated dual processor, and dual actuator technology for lightning-fast performance in demanding desktop, workstation, and multi-drive systems. And 1 TB capacity gives you the space you need to hold enormous amounts of photos, videos, and files. Best of all these drives are backed by a 5-year limited warranty.

Why you should choose WD Caviar Black:

WD Caviar Black delivers industry-leading performance that's perfect for hard-core gaming and intensive photo and video editing.

Maximum performance.
Sophisticated performance enhancing features deliver the speed you need to work faster, not longer.

No compromises.
High performance, high reliability, cutting edge technology and a 5-year limited warranty make up WD Caviar Black, the ideal drive for those who demand only the best.

Award winning.
This 7200 RPM speedster is at the top of its class when it comes to performance and reliability.

Features at a glance




Industry-leading performance
1 TB of desktop storage
SATA 6 Gb/s interface
Dual processor technology
5-year limited warranty

Ideal for:

Power computing applications such as intensive photo or video editing
Maxed out gaming systems
Adding lots of storage in desktop PCs
Adding extra storage space for photos, videos and music
Features:
SATA 6 Gb/s interface - Twice the interface speed with backwards compatibility to legacy SATA standards.
Dual processor - Twice the processing power to maximize performance.
Dynamic Cache - WD's dynamic caching algorithm improves performance in real time by optimizing cache allocation between reads and writes. For example, if there's an overwhelming percentage of read traffic as opposed to write traffic, the drive automatically allocates more cache for read data, which reduces congestion and improves overall drive performance.
NoTouch ramp load technology - The recording head never touches the disk media ensuring significantly less wear to the recording head and media as well as better drive protection in transit.
StableTrac - The motor shaft is secured at both ends to reduce system-induced vibration and stabilize platters for accurate tracking, during read and write operations which enables consistently higher performance.
Desktop / Consumer RAID environments - WD Caviar Black Hard Drives are tested and recommended for use in consumer-type RAID applications. (RAID-0 / RAID-1)*
*Business Critical RAID Environments – WD Caviar Blue Hard Drives are not recommended for and are not warranted for use in RAID environments utilizing Enterprise HBAs and/or expanders and in multi-bay chassis, as they are not designed for, nor tested in, these specific types of RAID applications. For all Business Critical RAID applications, please consider WD's Enterprise Hard Drives that are specifically designed with RAID-specific, time-limited error recovery (TLER), are tested extensively in 24x7 RAID applications, and include features like enhanced RAFF technology and thermal extended burn-in testing.
Upgrading your drive is easy - WD Acronis TrueImage, available as a free download on the WD Support site, enables you to copy all your data to a new drive so you don't have to reinstall your operating system to get all the benefits of a new drive. Note: Bare drive does not include any cables or mounting hardware.
The WD advantage - WD puts our products through extensive Functional Integrity Testing (F.I.T.) prior to any product launch. On average, each new product goes through 600,000 hours of testing. WD also has a detailed Knowledge Base with more than 1,000 helpful articles. You can also call toll-free support 7 days per week in the U.S. and Canada. See the WD Support site for full details.
Compatibility
Works with Windows 7/Vista/XP/2000, Mac and Linux operating systems.