TRENDnet Network Cable Tester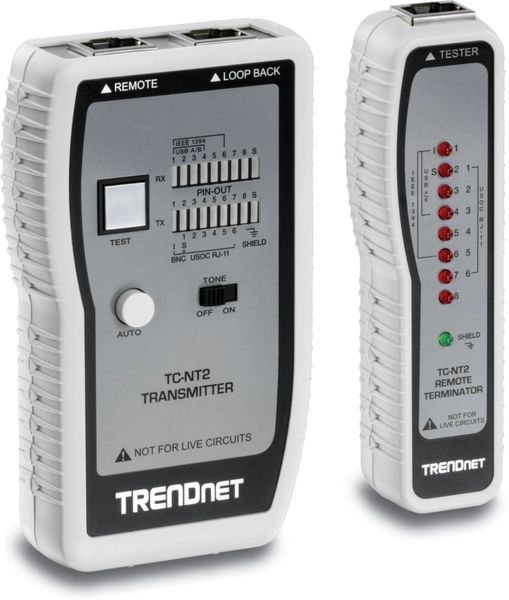 TRENDnet Network Cable Tester
Comprehensive cable tester for network professionals

Accurately test pin configurations for various voice and data cables for length up to 300 meters (984 Ft.)

Quickly identify faulty cables with the built-in audio tone indicator

Verifies cable continuity, opens, shorts, and miswires

Tests Pin Configuration of 10/100/1000Base-T, 10Base-2 (coax), RJ-11/RJ-12/RJ-45, EIA/TIA-356A/568A/568B, and Token Ring Cables




Product Description

Capacity: Cable Tester | Model: Voice Data

The TRENDnet's TC-NT2 is a convenient and comprehensive cable tester for network professionals. Its powerful and user-friendly features enable network installers to accurately check pin configurations of various voice and data communication cables. The TC-NT2 includes a master unit that transmits test signals to its corresponding remote terminator to verify cable reliability. It checks continuity and displays wiring configuration up to 300 meters of cable installation. With the unique feature of the audio tone generator, the TC-NT2 identifies and troubleshoots faulty cables to assure proper pin and wiring structure.