Roku 2 Streaming Media Player (4210R) with Faster Processor (2015 model)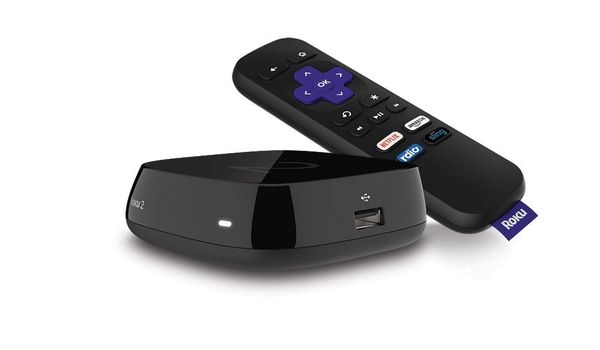 Roku 2 Streaming Media Player (4210R) with Faster Processor (2015 model)
Lightning fast performance

2000+ streaming channels - free, subscription, rent, or buy

Simple remote with channel shortcut buttons

Great with mobile devices



Product Description
Style: Roku 2
Roku 2 delivers fast performance and stunning high definition video at a tremendous value. Enjoy more than 2,000 streaming channels offering access to 250,000+ movies and TV episodes, plus, music, sports, and more*. Search the widest selection of channels and get automatic updates on new movies. Enjoy up to 1080P stunning HD video* as well as Ethernet, USB, and microSD card ports. *Some channels require payment. Channel availability can change and varies by country. Availability of 1080p HD video limited by channel provider and speed of broadband connection.
---
From the Manufacturer
TV the way you want it
You choose from the biggest selection of streaming channels, you can even follow movies coming soon. There are hundreds of free channels, easy ways to buy or watch films from top providers, and no additional charges to watch streaming services like Netflix or Hulu Plus if you already subscribe. And if you have cable, Roku players bring new ways to watch based on your cable subscription.
Speedy streaming
With our most powerful processor, the Roku 2 makes streaming look easy. Features Ethernet, USB connection for personal media and microSD card slot to expand internal storage.
Features
More channels than any other streaming player

2,500+ channels. Over 300,000 movies and TV episodes.

Find what you want—fast

Search across top channels by title, actor, or director using remote, voice, or the Roku mobile app. We make it easy to see what's on, where you can watch it, where it's free for you, or if there are purchase or rental options.

Follow your favorites - movies, shows, and more

With the Roku Feed, you can follow movies, TV shows, actors, and directors and get automatic updates when new content is ready to stream, or when the price drops.

You're connected

Roku 2 features Ethernet, a USB connection for personal media and a microSD card slot to expand internal storage.
TV Compatibility
HDMI port
HDMI port or Composite cables
HDMI port
HDMI port
HDMI port (4K video via HDCP 2.2 HDMI)
Control, browse and add channels with smartphone and tablets
✓
✓
✓
✓
✓
Cast video, music, photos, and more from mobile devices to your TV
✓
✓
✓
✓
✓
Mirror your entire screen with compatible Microsoft Windows and Android devices
✓
✓
✓
✓
Ethernet, USB and Micro SD card slot
✓
✓
✓
Lightning-fast processor
✓
✓
✓
Remote with headphone jack for private listening
✓
✓
Voice search
✓
✓
Point anywhere remote
✓
✓
✓
Motion control of games
✓
✓