Mudder 60W 110V Adjustable Temperature Welding Soldering Iron with Five Pieces Different Tips for Variously Repaired Usage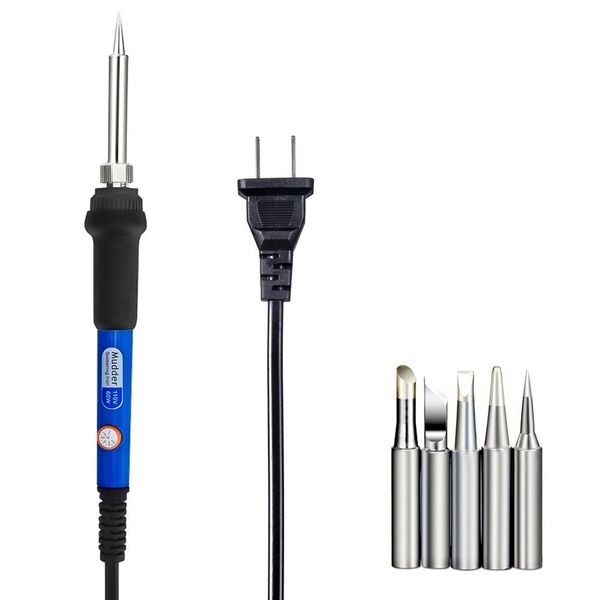 Mudder 60W 110V Adjustable Temperature Welding Soldering Iron with Five Pieces Different Tips for Variously Repaired Usage
Heat up fast, 60 Watts, thermostat range 200 °C-450 °C

Soft grip handle design for maximum comfort and reduced slippage

Five soldering iron tips kit can meet different basic soldering jobs

No need soldering station, just plug and play

Package included: 1 x Temperature adjust soldering iron; 5 x Soldering iron tips




Product Description

Color:Blue

The Mudder soldering iron is made of iron plated tip and stainless steel, ensure the quality of the products and the properties of the stability and reliability. Adjustable temperature controlled soldering irons: 200-450 degrees centigrade, there is an especial thermostat circuit to control the temperature and you can through the knob wheel adjust the temperature according to need. Beyond that, there are 5 extra soldering iron tips in the package.

Specification
Working Voltage: 110V
Power: 60W
Soldering Iron Length: 7.0 inches
Cable Length: 59.0 inches
Temp Range: 200℃~450℃
Tips Model: 900M series

How to solder
1. Prepare solder and soldering iron; Specially, it's necessary to keep the tip clean, which should be coated with solder
2. Use the soldering iron to heat the weldment, such as PCB leads and pads, and keep the weldment heated evenly
3. When the temperature is high enough, put the solder wire close to the joint, the solder will melt and flow freely
4. Please remove the solder wire when the tin is enough
5. Take away the soldering iron in a direction approximately 45 ° and power off

Package Included
1 x Adjustable Temperature Soldering Iron
5 x Soldering Iron Tips

Cautions
1. When the soldering iron is plugged in for the first time, there comes out a smoke from the tip end. The smoke stops in a short while and a smoke never comes out again.
2. The soldering iron will be very hot when working, please tread carefully.
3. Do not apply too much solder unnecessarily.
4. Please keep the tips coated with solder constantly

This soldering iron heats up fast, please select a suitable temperature as needed. Working for long hours and high temperature may shorten its life, so please power off and cool it if necessary.