iPhone 6 Plus/6s Plus Belt Clip Case : Stalion® Secure Holster Shell & Kickstand Combo (Jet Black)[Lifetime Warranty] for iPhone 6 PLUS/6s Plus (5.5" Inch) with 180° Degree Rotating Locking Belt Swivel + Shockproof Protection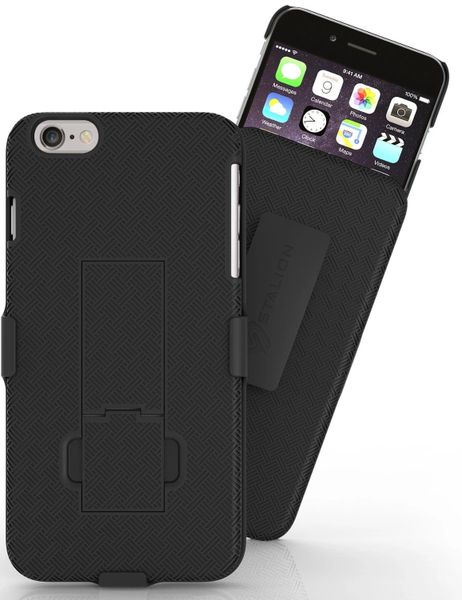 iPhone 6 Plus/6s Plus Belt Clip Case : Stalion® Secure Holster Shell & Kickstand Combo (Jet Black)[Lifetime Warranty] for iPhone 6 PLUS/6s Plus (5.5" Inch) with 180° Degree Rotating Locking Belt Swivel + Shockproof Protection
Stalion Secure Shell Case designed for the Apple iPhone 6 Plus 5.5inch Version fits all carriers

The Rubberized texture makes gripping your phone easy and will also Secure your iPhones protection

Easy access to your iPhone without removing the phone from the case.

The Holster clip has a swivel locking mechanism to keep your phone and place, Rear of the case has a built in kickstand to enhance your video watching experience.

Stalion Lifetime Replacement Warranty




Product Description

Size:iPhone 6 Plus | Color:Jet Black

Stalion® Secure Holster Case & Belt Clip Kickstand Combo

A case designed for your protection needs. Secure your investment while still providing a stylish look.

PRODUCT FEATURES

*Elevated edges allows for secure usage preventing your screen from being shattered if dropped.
*Rubberized textured finish conveniently provides outstanding grip.
*The belt clip rotates 180 degrees to provide you with ultra-flexibility. Enjoy all your media along with Amazon Prime videos and Netflix videos with the ingenious built in kickstand.
*Easy access to all your functional buttons (power, mute, volume, and home buttons).
*Ultra-light casing enables easy placement and removal from holster. Fastens to your belt for hands-free mobility.

COMPATIBILITY

Fits all versions of Apple iPhone 6 Plus/ 6s Plus.

Installation

Insert your phone into the shell casing. Either place the shell into the belt clip holster face first for carrying protection or on its back side for phone usage.

WARRANTY

Stalion Products offers a 24-Month Warranty.

SUPPORT

Call or Email Stalion Support; Monday-Friday 10AM-6PM EST.