Deepcool PANGU SW-BK Black SGCC+PLASTIC+RUBBER COATING ATX Mid Tower Computer Case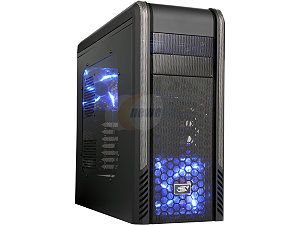 Deepcool PANGU SW-BK Black SGCC+PLASTIC+RUBBER COATING ATX Mid Tower Computer Case
Interior black coating makes stylish inside looks

Front 120mm fan with brilliant Blue LED provides the best airflow to HDDs

Rear: 80/90/120 mm fan x 1 (optional)

Tool-Free mechanical design for quick assembly and maintenance

Side ventilation holes for better cooling performance

Large transparent side window included




DEEPCOOL PANGU Mid Tower Computer Case



Side-window
2 USB 3.0 + 2 USB 2.0 Ports
Fully black painted interior
Pre-installed 2-piece Blue LED fan
Quick-removal design of the top/front panel for easy installation/cleaning
Full metal mesh design for the most cooling
Removable HDD cage for long VGA card installation
Rail slide HDD design for HDD easy installation
Tool free installation design for ODD/HDD
High quality rubberized coating for aesthetics
2 water cooling grommets on the rear
Wide CPU cut out for CPU cooler mounting
Bottom loaded PSU for effective cooling and extensive inner space
Cable management
Are you a DIY enthusiast looking for computer case with great compatibility? Pangu series may be the ideal selection. Pangu is an innovative and high quality DIY computer case. The word "Pangu" refers to "creation" as this computer case has multiple DIY features. Install up to six fans, a 400mm graphics card, and various detachable case components. Pangu sure lives up to its name.
Multiple Features for DIY Installation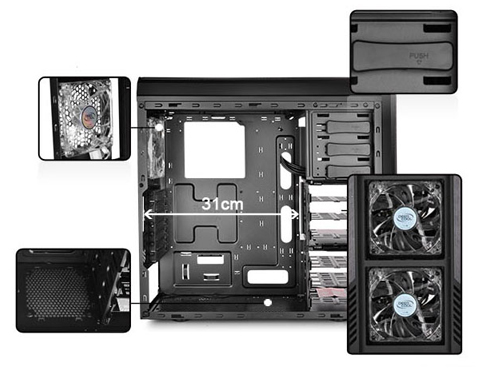 Innovative Design for DIY Usage
Pre-installed 120mm LED fan in the back.
Available space capacity on the bottom panel for 1 X 120mm fan installation.
Pre-installed one 120mm LED fan in the front panel and plus one optional 120mm fan space for installation.
5.25", 3.5" and 2.5" Drive Bays with tool-free installation
Removable top HDD rack for up to 400mm VGA card installation.
Ultimate Heat Ventilation Performance
Multiple Airflow Design
Removable massive metal mash in the top and front panel for dust filtering / airflow.
USB ports, plugholes and switch on top panel for easier operation.
Space available in the top panel for 2 x 120mm fan installation.
Patented air intake channel surrounds the perimeter of the front panel.
Maximum Space Management
Innovative DIY Design
Supports liquid cooling installation.
Bottom located PSU for better space management.
Backplate Cable Installation
Multiple channels for supreme cable management.