APC P8T3 HOME/OFFICE SURGEARREST 8 OUTLET W/ Tel2/SPLITTER PROTECTION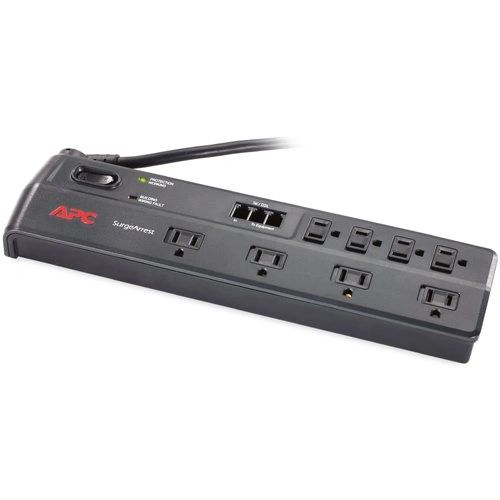 APC P8T3 HOME/OFFICE SURGEARREST 8 OUTLET W/ Tel2/SPLITTER PROTECTION
8 outlet (4 are block spaced) heavy duty surge protector to protect sensitive home and office electronics from damaging power disturbances including surges and spikes

Telephone line surge suppression to protect against dangerous surges traveling along data lines.

6ft Power Cord with right angle plug

Wiring Fault LED proactively notifies you of potentially dangerous building wiring conditions

Lifetime warranty and $150,000 Equipment Protection Policy provides peace of mind




Product Description

Style: P8T3 | Product Packaging: Standard Packaging

APC surge protectors undergo stringent testing by IEEE, and are awarded "let-through ratings", which indicate the maximum voltage level that can possibly reach your equipment after a surge or voltage spike has passed through a surge protector. Lower IEEE let-through ratings indicate better protection and performance. The APC Essential SurgeArrest series offers optimal performance with a let-through rating of less than 330V for North American products, and a rating of less than 15% for products sold worldwide. All APC products comply with local agency safety requirements, including UL in North America and CE/Kema/Gost/C-tick/A-Tick/Telepermit in their respective regions. Lightning and Surge Protection: To prevent damage to your equipment from power surges and spikes. Data-line Protection: Protection of data lines (Ethernet, Coaxial and Phone lines) ensures complete protection of your equipment from surges. It is very important to protect your equipment from ¡°back door¡± surges traveling through data lines, as they can be as damaging to your equipment as surges traveling over power lines.