10Ft Extra Long Nylon Braided 8 Pin Lightning to USB Charging Cable Cord with Aluminum Connector for iPhone 6/6s/6 plus/6s plus, 5c/5s/5, iPad Air/Mini, iPod Nano/Touch (White & Silver)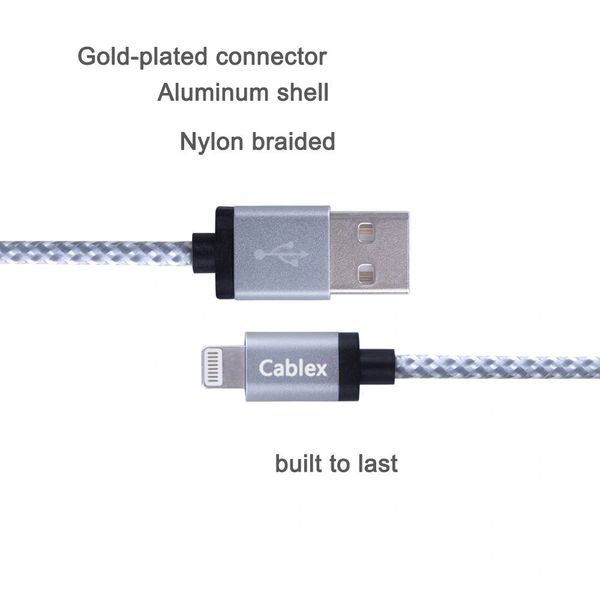 10Ft Extra Long Nylon Braided 8 Pin Lightning to USB Charging Cable Cord with Aluminum Connector for iPhone 6/6s/6 plus/6s plus, 5c/5s/5, iPad Air/Mini, iPod Nano/Touch (White & Silver)
Durable Nylon Fiber Cloth -- Instead of plastics or Polycarbonate sheathing, this Cablex lightning cable features a unique high tensile nylon construction. The nylon fiber cloth is wound tightly around the cord lending it superior durability and adding a bit to its flexibility. Nylon as a fabric happens to be waterproof with a high stress quotient so this Cablex cable ought to last really long.

Compatibility -- Complete charge and sync compatibility withiPhone 6s plus /6s/ 6 plus /6 / 5s / 5c / 5, iPad Air / Air 2, iPad mini / mini 2 / mini 3, iPod nano (7th generation), and iPod touch (5th generation). Compatible with latest iOS 9.

Works With Most Cases -- The ultra-compact connector head is small enough to fit most cases but strong enough to withstand repeated unplugging and storage.

Extra Length -- At 10ft /3m, the cord length is optimized for use with hard-to-reach USB ports and out-of-sight wall chargers. Replace your original 3ft cable or add another for your home, workplace, nightstand, or car. The perfect length for using away from home..

One-year Limited Warranty -- The cables are of the highest quality. We guarantee each cable for 12 months not to tear, break, wear out, or stop working.